May 26th - 29th, 2022 | Chillicothe, IL | Three Sisters Park

SCamp this year was nothing short of amazing and easily the best experience we have had yet!  Blessed to have the opportunity to be apart of the official media team taking video and photos for the festival, and I think I hit it out of the park.  It has always been a dream of mine to be apart of this amazing festival in some capacity ever since my first visit in 2016.  I truly had a life changing experience that first year and came back happier, more inspired, and driven than ever before.  In a sense I became the truest version of myself; shortly after I landed my career and met my wife, and still to this day I give SCamp all the credit. To keep it short I LOVE SCAMP and don't plan on missing a year any time soon.

The Magic Beans

These dudes absolutely crushed their debut performance at SCamp! Had the pleasure of catching both their Campfire Stage set and their VIP Lounge set.  In between we got to meet the band and do a sweet little interview with the help of camp counselors Allyce and Rob K.  If you haven't got a chance to see The Magic Beans yet I highly recommend you change that!

Kangaroo Court
This band also broke their SCamp cherries this year on the Campfire Stage and rocked the fuck out! Kangaroo Court won the Summer Camp On the Road Tour @ The Canopy Club in Urbana, IL winning an invitation to play at SCamp. Their stage presence is fun and the vocals are as strong as the groove. Safe to say keep an out for this group!

Keller Williams

The legend himself Ol' Keller! Sadly did not catch much of his performances this year due to video/photo assignment conflicts, but happy to catch the last song of his VIP Lounge set and snap this sweet capture.  In passing Katie and I could hear his Keller William's Grateful Grass set and really wish we could have venture over to the stage, but we will have to wait for the stars to align another time.

Steady Flow
One of me and Katie's all time favorites, the P-Town Heroes, Steady Flow! These dudes keep getting better and better, and this year they had a whopping two hour set from 2AM - 4AM Thursday and closed out the night in the most epic fashion! They bring the funk and can really throw down, plus their cover of Smells Like Teen Spirit may have been the best cover of the weekend and easily the best cover of that song I have heard in my life.  The funk is strong with one! Plus to top it all off the homie Kowan Turner is the new drummer and his drum solo Saturday... HOLY SHMOKES! Can't wait to see what the future holds for these cool cats!

Trouble Chasin'
The dynamic duo does it again! Chase Baby and Sandman Slim together are Trouble Chasin' back for their 6th SCamp performance and hot as ever.  It is customary to support the homies and I do my best to pay my dues, but these guys are different and hold a special place in my heart.  One of the first and only sets I filmed at my first SCamp was their set which just so happened to be their first set. They had won the Scamp on the Road Tour @ The Canopy Club that year and I was helping Camp Counselor Rob K.  In a way things have come full circle this year, Rob got me on the media team and here I am shooting photos at their most impressive SCamp performance to date!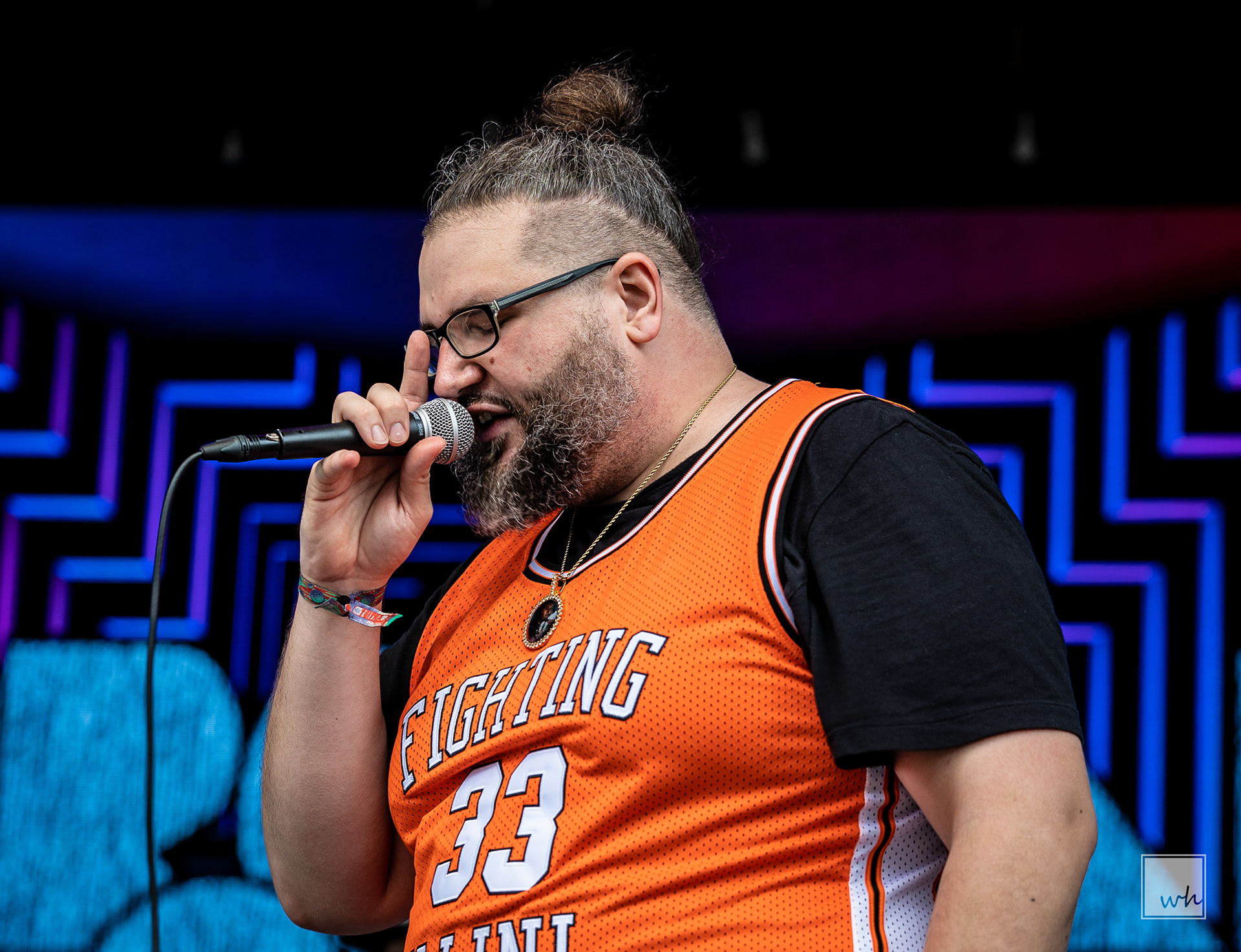 Field Day

Yellow Team Wins!!! The defending champions win back to back titles marking their second win in SCamp Field Day history.  This year was nothing short of amazing and the competitors are all winners in my eyes for leaving it all out on the field on the hottest day of the weekend.  I was just filming and was out of breathe, I don't know how they do it! This year the competition included Tug-o-War, Dodgeball, Twister, Relay Race, Doughnut Eating Contest, and the Big Butt Challenge. Both the purple and yellow team lead the day with 3 wins a piece which lead to a final winner takes all Dodgeball Showdown.  Had so much fun that I am considering participating next year, and gonna have to join the yellow team if that is the case.  Video recap of the event coming soon!

Big Gigantic

Sunset sets at the Sunshine Stage just hit different and Big G played it proper!  These dudes are a class act and SCamp favorite, they have been playing the fest for over a decade and continue to raise the bar each time. I had the honor and privilege of being on the interview team for Big G this year with the help of camp counselors Sydney, Bryce, and Rob K. The first photo below may be my best shot from the whole weekend; the colors of the sunset, the visuals on stage match the waves in the clouds, and you can clearly see both band members (Dominic with his arms up & a nice silhouette of Jeremy).

DJ Tim Williams

What incredible artist and over all awesome human being! Been friends with Tim for awhile now and every set I have seen him play continues to impress me with his range and versatility.  Met Tim while taking photos and now it was a pleasure to shoot photos of the man himself at the incredible Summer Camp Music Festival. Thanks Tim for having me out!

Troubleshoota

This guy right here is the truth and has become an incredible friend. Troubleshoot aka Bubbleshoota aka Anthony the Manthony (I just made that last one up) decimated his set at SCamp this year!  Huge crowd energy, raging rail riders, banger after banger, and of course bubbles; this set had everything and left the crowd wanting more.  Troubleshoota was also a winner at the Summer Camp on the Road @ The Canopy Club in Urbana, IL this year. The future looks bright for the homie!

The Wook Woods

Katie and I spent our SunDAY wookin' it out in the woods, and the best time.  We ran into old friends, new friends, and even a SCamp legend, Uncle Randy. 

The Soul Patch

This beautiful space is permanent garden at Three Sisters Park, features permaculutre and natural housing techniques and is ran by some pretty amazing humans.  Mike was awesome enough to give me an enlightening tour and even support Hangin' with the Harrises by purchasing some art. The Soul Patch area is also home to the famous SCamp Chorizo Bread.